Musical Ride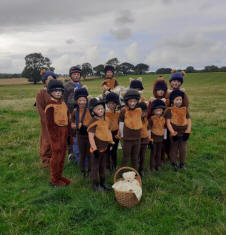 Good luck to our musical ride team who are taking part in the PC Virtual Musical Ride Competition with their Teddy Bears Picnic routine.
Riders - Annabelle Calvert, Harriet Calvert, Lucia Doherty, Isla MacDonald Hagan, Lucy Oliver, Pippa Routledge, Noah Taylor, Abigail Wood
Dismounted team member - Robyn Routledge
Leaders – Ethan Campbell, Georgina & Lydia Jeffrey, Erin & Niamh MacDonald Hagan, Maureen Jersby, Ali Oliver, Ellen Wood
We had great fun working out the routine, sorting costumes and music. Special thanks to Linda Henderson for making the picnic saddle cloths decorated with plates of food and to our older members who helped with the leading, especially to Georgina who came along on her 18th birthday to help!